Can I get something I want made in a different fabric? We are happy to work with you on creating a custom order to match your vision (subject to fabric availability).  Please email us with your request and we will do our best to create the look you desire.
Can I get additional items? Yes, we can make a variety of other items for your home or nursery such as coordinating throw pillows, curtains, pillow shams, and more (all  subject to fabric availability).  Please contact us with your requests.
Here is a picture of custom curtain made for a customer to go with her bedding: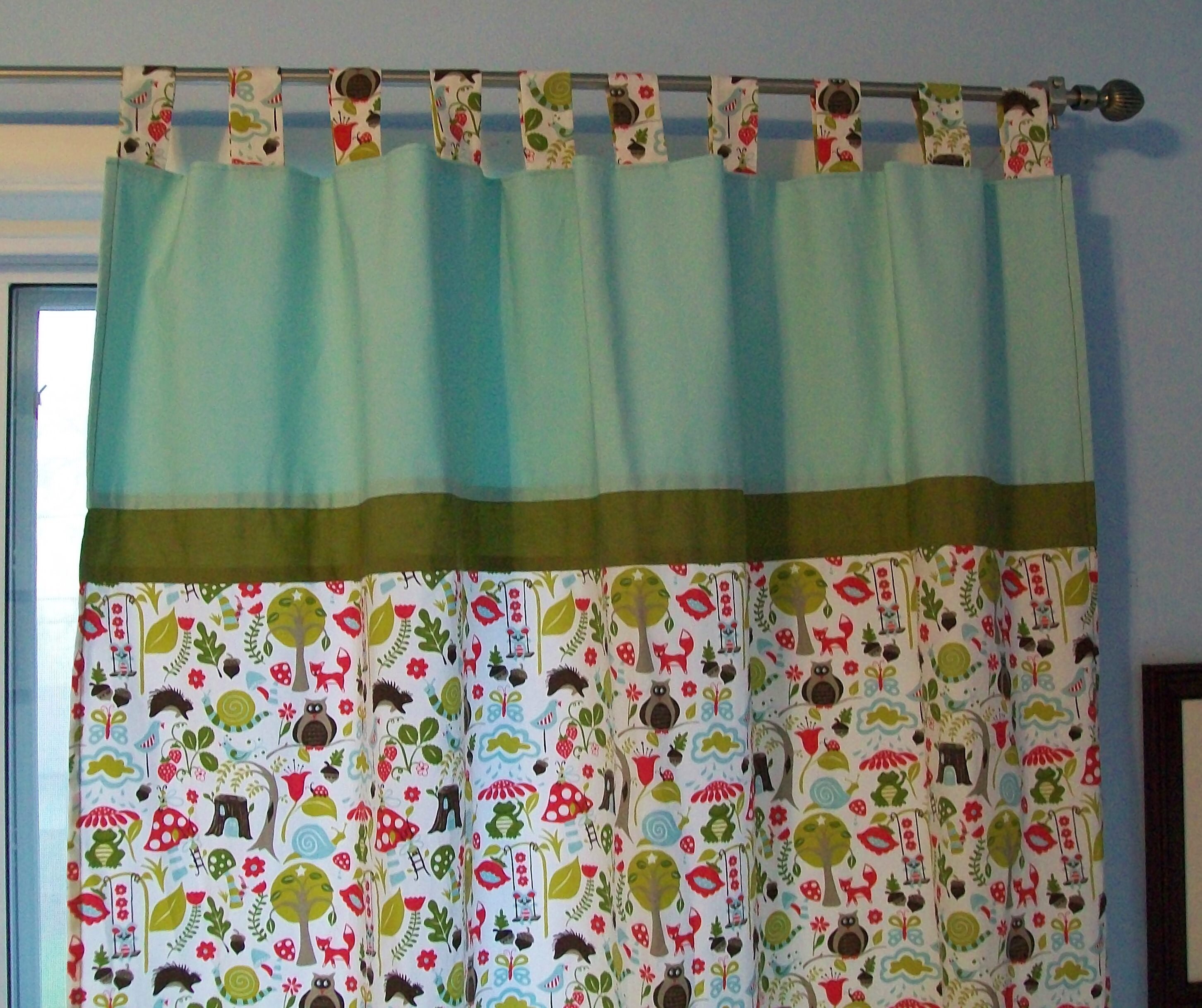 How should I wash my items? Items should be machine or hand washed in cold water and tumble dried on low. Low iron if needed. Eco-wool pillows are not washable. Air in the sun and spot clean if needed.
Are the items preshrunk? All fabrics are pre-washed using fragrance and chemical free detergent to minimize shrinkage.
Do you make everything? All  items other than our toddler pillow inserts are handmade locally in Oregon by Delano Designs.  Toddler pillow inserts are also handmade by another local Oregon vendor.
What is your shipping policy? The majority of items ship in 1 to 2 weeks. We have so many fabrics and options for people to choose from that most of our items are made post order. And we make them in the order that the orders are received. So if there are a lot of items in line, your order will be shipped at the end of the 2 weeks, but if we are caught up it will come sooner. Check your receipt for your ship by date. We do have some items ready to ship and we've usually marked them that way, though not always. If you have a need for an item in a particular time frame, please message us and we will see what we can do. Sets which include multiple items will generally take longer than the 2 weeks and we try to mark the sets as such.  The majority of items ship via USPS, either First Class or  Priority Mail.  We will do our best to meet the shipping estimates, but  cannot guarantee them. Actual delivery time will depend on the shipping  method. 
We are not responsible for lost or damaged items. Shipping insurance is available upon request.
Buyers are responsible for any customs and import taxes that may apply. We are not responsible for delays due to customs. 
What is your return policy? Your satisfaction is important to us. Please let us know as soon as possible if there is a problem with your order or products, and we will work with you to resolve the issue. Exchanges, returns, etc. will be  determined on an individual basis. Items must not be washed or used prior to return.
What is the batting made out of? Our batting (used in our quilts and teething guard rails) is made out of 50% organic cotton, and 50% bamboo.
What is the pillow stuffing made out of? The  pillow stuffing in our 12" x 16" toddler pillows is made out of natural  eco-wool.  It is made without  any chemicals, dyes, bleaches or fire retardants.  It is encased in an organic cotton fabric (non-removable).
Why Organic Cotton? Please see our blog post on why organic for more information on the benefits of organic cotton.